About Lucy Restaurant
Lucy is a true dining experience that is laid-back, unpretentious, yet still slightly elegant. Lucy invites all food lovers to sample the house-made creations in a warm atmosphere. Original menu items such as our Cap'n Lucy French Toast, Tuna Tartar, and Chili Cheese Cakes are but a few of the signature items that make us so unique! The fun menu and energy-packed ambiance gives guests a taste of reminiscence that's always in style.
Lucy [above the club] at Comedy Works South at the Landmark first made its debut in October of 2008. The restaurant was named after Lucy the dog who is a French Bulldog born in Sulfer Springs, Texas.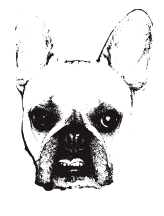 Meet the Original Lucy
Lucy the DOG was born January 10, 2006.
Lucy is a French Bulldog born in Sulfer Springs, Texas. She arrived in Denver via American Airlines from Dallas in March of 2006 and life has never been the same.
Lucy the DOG loves to nap, eat, play in her pool, roll in the street, chase bunnies, sunbathe, and play ball! Her favorite treats include office supplies, lipstick and most anything cylindrical. Lucy's other favorite pastimes are playing chase and stick. Her favorite toy is green squeaky balls and she only plays with them if they squeak. She has very good self-esteem, a wonderful sense of humor and loves all people that love her…although she continues to have issues with the mailman.