Yoga + Brunch
Lucy restaurant presents Yoga + Brunch once a month on Sunday from 9:30am to 10:30am inside our private room, H4. Wind down and stretch out your weekend at Yoga + Brunch and get your 1st MIMOSA FREE! Stick around after class for our Weekend Brunch with breakfast served until 2pm.
Call Lucy Restaurant today at 720.274.6868 to reserve your brunch table and save your spot in class for just $10. Classes and instructors below.
*Bring your own mat. Space is limited.
Upcoming Yoga Classes
Sunday, December 17: Justin K
9:30 – 10:30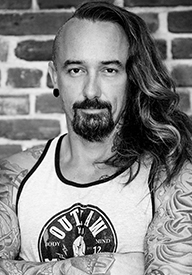 This Yoga Brunch class will be taught by
Justin Kaliszewski
. Justin is an award-winning artist, avid adventurer, and the renowned creator and co-founder of OUTLAW Yoga. Author of "The Outlaw Protocol – how to live as an outlaw without becoming a criminal", and the children's picture book "The Adventures of Babu – from there to here", he creates connection by delivering transformational yoga-experiences across the country, and at the Outlaw Yoga Littleton studio.